20% Sale On Our Agency Server Package With Plesk SEO Toolkit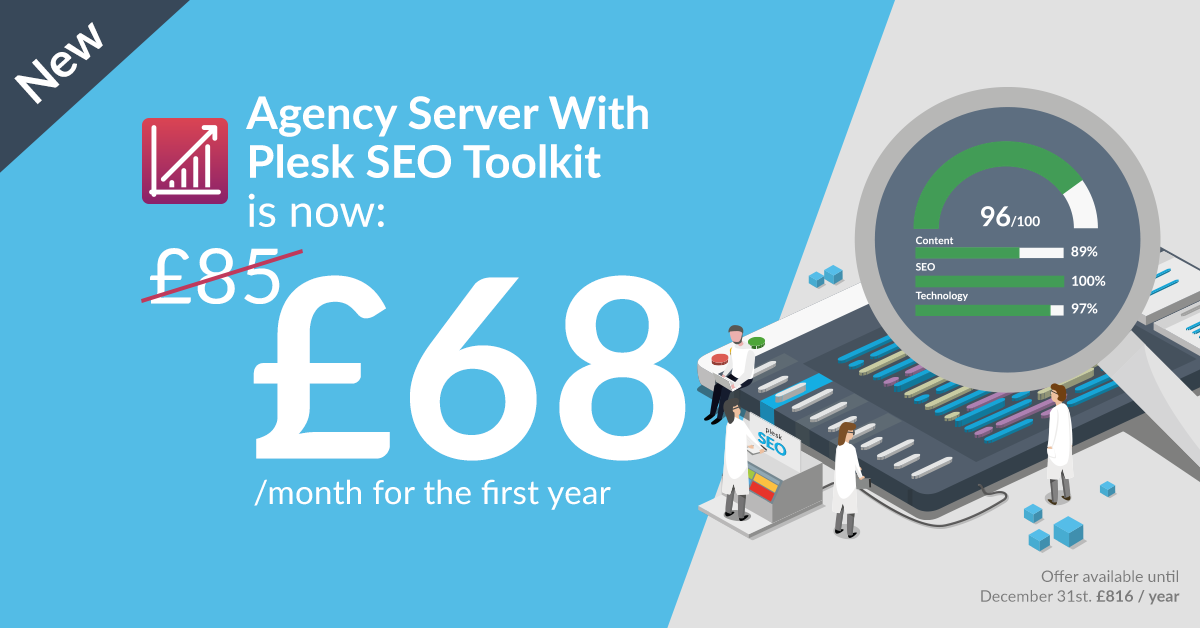 Now is the time to get your hands on one of our exceptional Agency Servers. From now until 31st December 2018 you can get a massive 20% off the standard price for a full 12 months!
What Is An Agency Server?
Our Agency Servers provide all you'll need to mass-manage multiple WordPress instances with just a few clicks. Spend more time focused on developing your websites and running your business and less time worrying about your security tasks. They take away all the hassle of server management. Secure and manage your websites with the best managed cloud hosting and the very latest Plesk Onyx.
Customers can not only auto-install themes and plugins, but automate updates, use one-click staging environments and clone.
Optimisation
Customers can build and run solid sites. Then use SEO and mobile optimisation tools to flourish, leaving competitors in the dust.
Features
Whilst the package includes a whole host of amazing features, it also includes the Plesk SEO Toolkit. The toolkit allows you to Improve your search engine rankings by testing, analysing and monitoring your website and so is perfect for all your SEO needs. The full list of features include:
Security
Plesk Web Host Edition
Security scanning – we take care of it all
SSL Certificate Included
Anti-Virus Software
Server Monitoring
DDoS Protection
Datagrid reliability and vulnerability scanner – Get notified about security issues
Plesk Security Advisor – If you're not a security expert, this wizard is!
Daily Backups
Backup to Cloud Pro
Revisium Antivirus for Websites
Uptime Robot
Sucuri Security Scanner
WordPress Management
WordPress Toolkit – Mass-manage multiple WordPress instances with just a few clicks and never code on a live site again thanks to integrated staging and cloning functionality
WordPress Smart Updates for 30 websites
Speed Kit for 1 Website
BoldGrid for 1 Website
Migration And Development
Plesk Migrator – Give your migrations heightened stability and improved performance
SEO
Google PageSpeed Insights – Speed up your website to accelerate sales conversion
SEO Toolkit Personal Edition
Choice And Support
Choice of configurations
24/7 365 market leading technical support
You really don't want to miss out on this amazing Winter deal! Get your Agency Server package before 31st December 2018 and reap all the benefits yourself at our generous discounted price.
Questions?
Speak to our friendly team today to find out what our services can do for you, or for any other queries, please call 03330 439780 or Chat Live with one of the team.