Netcetera Declares Compliance With CISPE Data Protection Code Of Conduct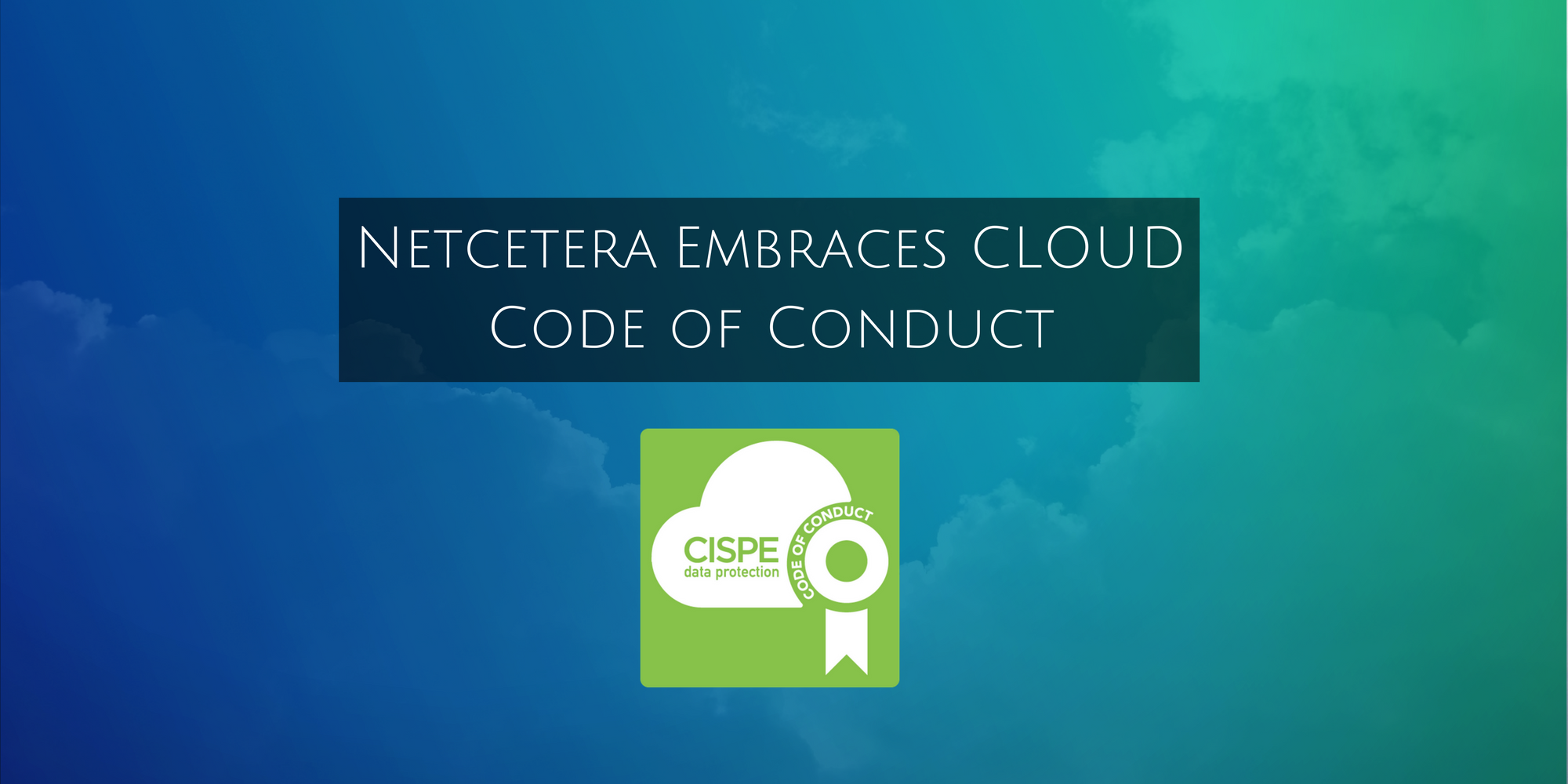 Netcetera is pleased to announce compliance with the new CISPE Code Of Conduct, joining a select group of Cloud Services Providers across Europe who have declared to provide their clients with the choice to store and process their data within the European Economic Area. Netcetera is the first and only Cloud Services Provider from the within the UK, the first European Carbon Neutral Cloud Provider and the only Cloud Services Provider from the Isle Of Man to achieve this new compliance mark.
Netcetera's latest achievement was also welcomed by the Isle of Man's Information Commissioner, Mr Iain McDonald, who stated, "The Cloud Infrastructure Service Providers in Europe (CISPE) were among the first to produce a code of practice for compliance with the new stricter requirements of the EU General Data Protection Regulation (GDPR). I am pleased to learn that Netcetera has publicly committed to adhering to this code of practice and in doing so has become the first Isle of Man based data controller to do so."
Only Cloud Service Providers that adhere to the new European Standards will be entitled to display this new mark of compliance. This new standard guarantees that Netcetera will not access or use their client's data for their own purposes, for data mining operations, data profiling or direct marketing.
The new Code Of Conduct can be used by customers seeking a provider offering Cloud Computing Solutions, as a reference to establish whether a Cloud Service appropriately and transparently protects the data they want to keep. This new Code Of Conduct will bring benefits to both customers as well as service providers.
With the European Data Protection Regulation (GDPR) coming into effect in 2018, Netcetera is pleased to anticipate any changes this may bring along by taking advantage of the situation to show existing clients and potential new customers that it champions transparency, security of data and freedom of choice by agreeing to comply with the new European industry standard.
Francisco Mingorance, CISPE Secretary General & Counselor said, "CISPE welcomes Netcetera's declaration of adherence under the CISPE data protection Code of Conduct. Netcetera is the first UK- Cloud Service Provider to declare its cloud services under the CISPE data protection Code of Conduct ahead of the application of the new European Data Regulations in May 2018."

Netcetera's CEO Peter Skelton echoed these words saying that, "It is more than pleasing to be the first datacentre in the UK to guarantee that our client's data will be held in compliance with the new European Data Regulations coming to us in 2018. By agreeing to adhere to the CISPE Code Of Conduct, it clearly demonstrates our determination to offer the highest standards of transparency and security for data hosted by clients on our Carbon Neutral Enterprise Cloud. We would encourage more Cloud providers to follow our example, the more service providers that achieve the compliance mark, the easier it will be for potential customers to recognise the Cloud providers that can be trusted to uphold the highest standards in data protection integrity."
Many of Netcetera's clients have asked the question about the processing of their data, where is is stored and ultimately what it will be used for and who will have access to it. It is essential for many of our own clients to be able to demonstrate that their Cloud Hosting Provider adheres to the strictest regulations for data protection. Netcetera has always taken data protection seriously and already has achieved ISO 27001 for Security Management Systems. This new standard further demonstrates the company's commitment to deliver the highest standards available for data protection.
Netcetera's Carbon Neutral Enterprise Cloud provides the very best in cloud computing with 24/7 support, security, speed, reliability, choice and scalability all as standard and at a very affordable monthly price, making this Cloud Computing Solution as easy choice if you want the very best hosting for your data. Check out your new Cloud Solution today!
Build Your Enterprise Cloud Today
Questions? Let us help!
Simply visit our website today or call our friendly experts to find out how we can help you get the very best Cloud Computing Solution for your business.
To speak to one of our Sales Consultants about what our services can do for you, or for any other queries, please call 03330 439478 or Chat Live to one of our team.