Give Your Website An Awesome New Home On An Elastic Site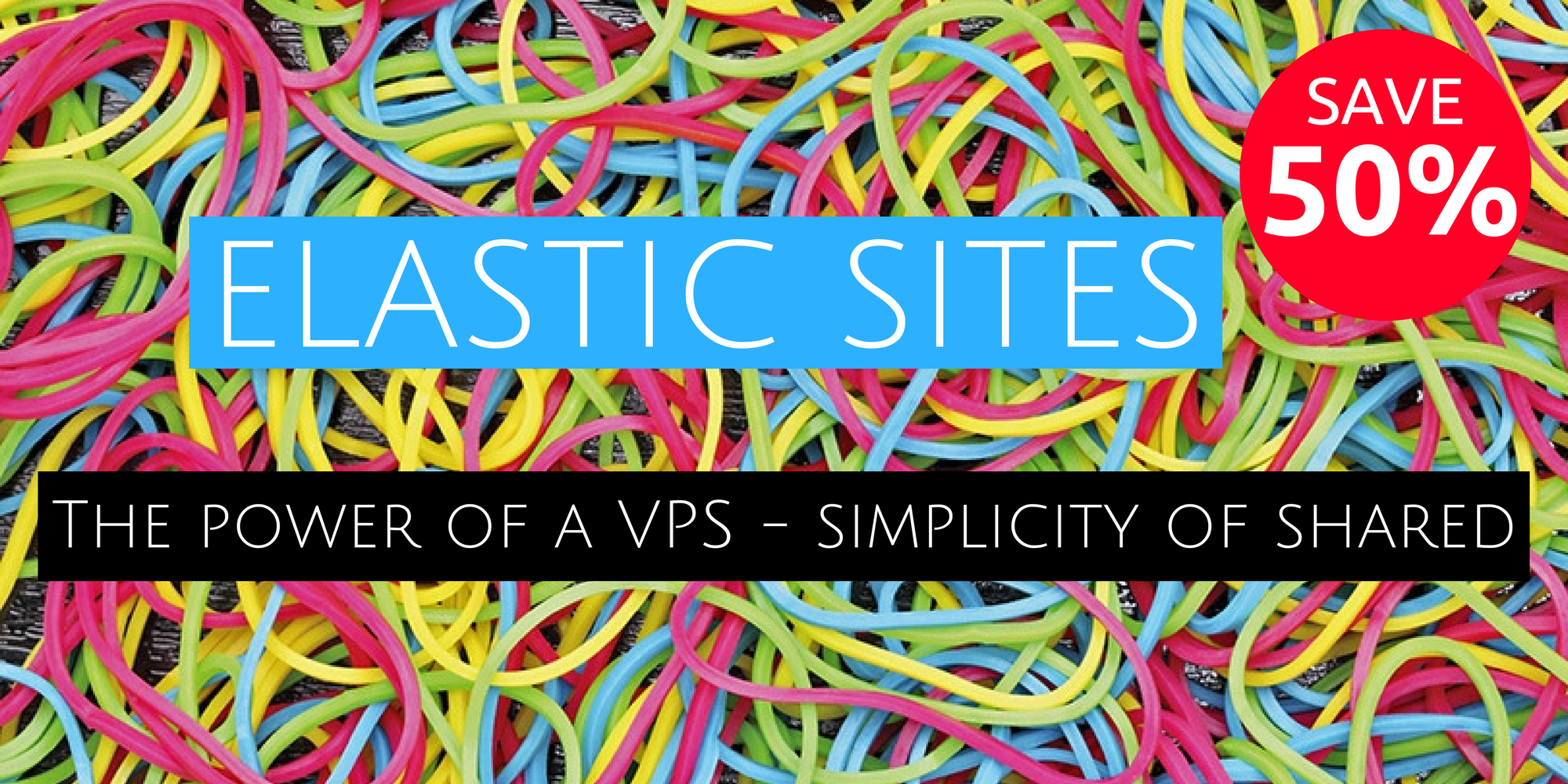 Does your website need a bit more speed and reliability? Perhaps you know already that being on a managed shared hosting platform isn't quite good enough anymore to meet your growing needs? We know how frustrating it can be when your website outgrows shared hosting. You're worried about migrating it from a familiar setting perhaps to a VPS or Cloud that you may have never managed before. You might also be worried about the costs involved and the maintenance? Having been in business for over 21 years we know what it's like for our clients when they need to find a new home for their website, sometimes it feels like you're stuck between a rock and a hard place! Just think though if you could have all the benefits of a managed shared hosting package but with the extra power, speed and reliability you would get from a VPS, but without the price tag!
The logical way to go when your website has become too big for shared hosting is Elastic. Elastic Hosting delivers the very best of both worlds. The simplicity of an easy to use control panel with the speed, performance, reliability and security you would associate with having your own VPS server.
So what are some of the benefits of moving to a Netcetera Elastic Site?
Reliability – just like having your very own server with all the resources you'd expect there for your own use

Stability – a stable familiar hosting environment with the same management tools you'd find on shared hosting

Increased resources – nobody else sharing the resources on the server, you can choose what you need

Security – improved security as you don't have to worry about other websites hosted on the same platform

Cost – Lower cost than Managed VPS or Managed Dedicated but with similar performance

Scalability and performance of a private server with the low cost and convenience of shared hosting

You don't have to be technical to manage an Elastic hosting environment

Start small and grow using what you're used to
Imagine having the additional resources you require and not having to worry about your website being affected by what we call noisy neighbours who may be hosted on the same server as your site. In simple terms it could be likened to moving from a terraced house to having you own detached house without having to pay the price tag for doing so. Having the stability and reliability of a VPS but being able to manage your hosting in the same way as you would on a managed shared hosting platform is quickly becoming the logical step forward for individuals and small to medium size businesses that have outgrown shared hosting.
Moving onto an Elastic Site is the logical step and with Netcetera's Elastic Sites you'll be able to make the switch quick and easy. With 24/7 technical support and a great choice of Elastic Sites available you'll soon discover why so many websites are moving onto an Elastic Site. Not only will you quickly see the difference hosting on an Elastic Site can bring to your website but you can also save money on your hosting when you make the switch to Netcetera. Simply choose the Elastic Site that will work for you, if you're not sure we'd be happy to provide you with some free advice. When you're happy with your choice simply order online, SAVE 50% with PROMO CODE ELASTIC50 and get your first month for half price.
Save 50% And Get Your Elastic Site Today
Questions? Let us help!
Simply visit our website today or call our friendly experts to find out how we can help you make the move over to Elastic Hosting.
To speak to one of our Sales Consultants about what our services can do for you, or for any other queries, please call 03330 439478 or Chat Live to one of our team.